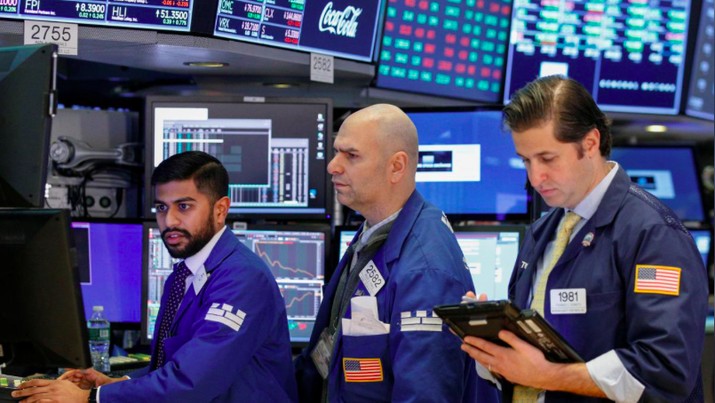 Indeks-indeks utama di Wall Street pada perdagangan Rabu (12/12/2018) waktu Amerika Serikat (AS) ditutup menguat. Aura damai dagang antara AS dan China masih menjadi pendorong penguatan indeks-indeks tersebut.
Dilansir CNBC International, Kamis (13/12/2018), indeks Dow Jones Industrial Average naik 157,03 poin menjadi 24.527,27. Indeks S & P 500 ditutup menguat 0,6% ke level 2.651,07. Sedangkan Nasdaq Composite melonjak 1% menjadi 7.098,31.
Rata-rata kenaikan indeks terjadi dalam perdagangan selepas jeda siang. Indeks Dow meningkat sebanyak 458,05 poin. Sementara S & P 500 naik 1,85%. Sedangkan Nasdaq meningkat sebanyak 2,35%.
"Ada banyak kecemasan di sekitar sana," ujar Managing Director KKM Financial Dan Deming. "Pasar masih berurusan dengan beberapa masalah utama yang sepertinya tidak dapat dihilangkan sampai kita semua mendapatkan resolusi atas masalah-masalah itu," lanjut Deming.
Saham Caterpillar dan Boeing tercatat meroket lebih dari 1%. Saham-saham itu dinilai sebagai acuan investor lantaran terpapar dengan pasar mancanegara.
The Wall Street Journal melaporkan China sedang merampungkan kebijakan untuk meningkatkan akses terhadap perusahaan asing. Langkah itu diyakini akan memperlancar hubungan dagang AS-China.
Rencana ini, menurut The Wall Street Journal, akan menggantikan Made in China Plan 2025, sebuah kerangka kebijakan yang bertujuan membuat China menjadi pemimpin industri green car hingga robotik.
Dari sisi AS, Presiden Donald Trump, dalam wawancara khusus dengan Reuters pada Selasa (11/12/2018) waktu AS, mengatakan akan mengintervensi kebijakan Departemen Kehakiman terkait kasus yang melibatkan CFO Huawei.
Sebab, hal itu diyakini Trump bakal berdampak kepada negosiasi dagang AS-China. Huawei merupakan salah satu perusahaan teknologi terbesar di Cina sekaligus simbol kebanggaan pemerintahan Negeri Tirai Bambu.
Trump juga mengaku tidak akan menaikkan tarif impor terhadap produk-produk China hingga dia meyakini perjanjian perdagangan komprehensif terwujud. Sementara itu, Reuters pada Rabu (11/12/2018) waktu AS melaporkan BUMN China bersiap membeli setidaknya 500 ribu ton kedelai AS.
Namun, ada satu faktor lagi yang membuat pasar waspada. Faktor itu adalah Bank Sentral AS alias The Fed. The Fed diperkirakan akan menaikkan suku bunga acuan pekan depan. Namun, prospek untuk 2019 masih belum pasti.
"Pasar kehabisan waktu untuk melakukan sesuatu yang berarti hingga akhir tahun. Kita tertatih-tatih dan hanya ada beberapa hari perdagangan baik yang tersisa," kata CEO The Opportunistic Trader Larry Benedict dilansir CNBC International.
(Sumber : CNBC Indonesia)