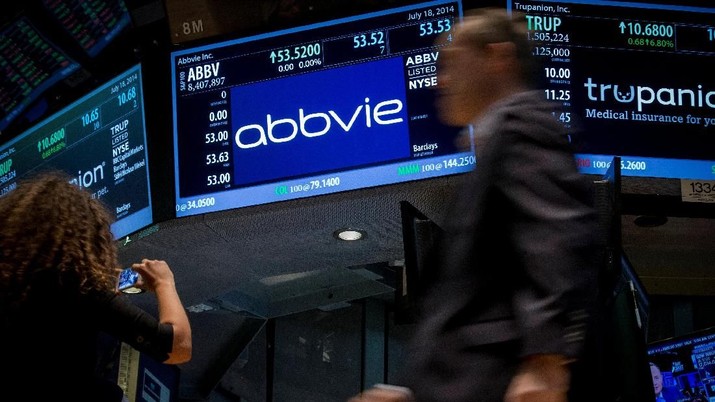 Jakarta, CNBC Indonesia – Bursa saham Wall Street ditutup terkoreksi pada perdagangan Senin (15/10/2018) terseret saham sektor teknologi yang anjlok karena kekhawatiran investor akan kenaikan suku bunga acuan dan kinerja keuangan perusahaan.
Mengutip Reuters, Dow Jones Industrial Average turun 0,35 persen (89,44 poin) menjadi 25.250,55, S&P 500 terkoreksi 0,59 persen (16,34 poin) ke 2,750.79, dan Nasdaq Composite turun 0,88 persen (66,15 poin) menjadi 7.430,74.
Indeks teknologi anjlok 1,6 persen, membebani S&P 500, sementara sektor defensif seperti real estat, consumer staples dan utilitas berada di zona hijau tetapi tidak mampu mengangkat S&P 500 berakhir menguat.
Data I / B / E / S dari Refinitiv menunjukkan rata-rata emiten yang terdaftar di S&P 500 akan melaporkan pertumbuhan laba 21,6 persen dari tahun ke tahun, penurunan dari dua kuartal sebelumnya.
Pada Senin, Departemen Keuangan merilis data yang menunjukkan pada tahun 2018, AS akan mencatatkan defisit terbesar sejak tahun 2012. Hal ini dampak dari kebijakan pemotongan pajak yang menurunkan sumber pendapatan negara dan pemerintah membayar lebih untuk layanan publik untung negara bertambah.
Yield obligasi pemerintah bertenor 10 tahun yang jadi patokan berada di 3,1557 persen, bertahan di atas level bulan September tetapi di bawah yield pekan lalu yang mendorong aksi jual minggu lalu.
"Pasar sedang dalam fase menunggu (wait-and-see)," kata Keith Lerner, chief market strategis di SunTrust Advisory Services di Atlanta. "Pasar menunggu penghasilan, menunggu The Fed, dan menunggu data ekonomi dari China untuk melihat apakah ada hal-hal yang stabil."
Saham Bank of America Corp anjlok 1,9 persen setelah pertumbuhan kredit di bank terbesar kedua di AS itu turun dan lebih rendah dari saingannya dan pendapatan dari bisnis jual-beli dan underwriting obligasi jatuh pada kuartal ketiga.
Saham Apple Inc turun koreksi 2,1 persen dan salah satu saham yang membebani koreksi Wall Street setelah Goldman Sachs mengatakan ada beberapa tanda perlambatan permintaan permintaan yang cepat di China, yang dapat mempengaruhi permintaan untuk iPhone pada musim gugur ini.
sumber: CNBC Indonesia