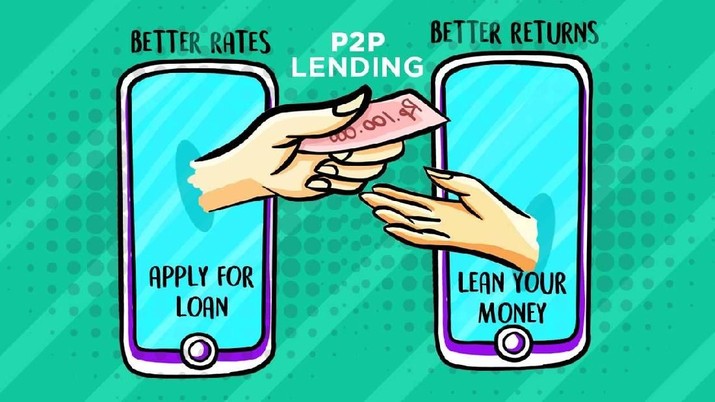 Jakarta, CNBC Indonesia – Hasil analisis kajian bersama Institute for Development of Economics and Finance (INDEF) dengan Asosiasi Fintech Indonesia (Aftech) menyebutkan peminjaman dana melalui platform teknologi finansial (fintech) berpotensi menyumbang hingga Rp 25,97 triliun bagi Produk Domestik Bruto (PDB) Indonesia.
Ekonom INDEF Bhima Yudhistira mengatakan fintech yang memberikan pinjaman pada sektor produktif perlu lebih didukung, karena akan menambah output tenaga kerja dan akhirnya berdampak pada output perekonomian yang lebih berkelanjutan.
Data Otoritas Jasa Keuangan (OJK) menunjukkan, total penyaluran pinjaman hingga kuartal II 2018 telah mencapai Rp 7,64 triliun dengan jumlah peminjam 1,47 juta orang, mayoritas di perdagangan dan pertanian.
"Kita melakukan analisis input output, PDB dibagi 21 sektor, baik yang berhubungan langsung dengan jasa keuanga, perdagangan dan sektor lainnya yang tidak berhubungan dengan fintech […] Hasil penelitian empiris, keberadaan fintech di Indonesia bisa meningkatkan PDB hingga Rp 25,97 triliun," ujar Bhima di Fintech Space, Menara Satrio, Selasa (28/8/2018).
Dia mengklaim fintech peer to peer (P2P) lending sebagai yang paling berkembang saat ini dibandingkan sektor lainnya. Data INDEF menunjukkan fintech lending mampu berkontribusi pada peningkatan konsumsi rumah tangga hingga Rp 8,94 triliun serta kompensasi tenaga kerja (upah dan gaji) hingga Rp 4,56 triliun.
"Saat ini, baru 66 fintech lending yang terdaftar di OJK dari 200-an lebih fintech yang ada. Dan 66 yang terdaftar ini telah mampu menyumbang penyerapan tenaga kerja ritel hingga 215.000 orang, dengan sektor primer seperti pertanian menyerap hingga 9.000 orang," jelasnya.
Sementara itu, Direktur Kebijakan Publik Asosiasi Fintech Indonesia (Aftech) Ajisatria Suleiman mendorong adanya kolaborasi antara perusahaan fintech pembiayaan/P2P lending dengan perbankan. Menurutnya, upaya tersebut diperlukan untuk mematahkan mitos bahwa fintech akan mematikan perbankan.
Aji mengungkapkan dua hal yang perlu diperhatikan dari sisi investor (lender) dan peminjam uang (borrower) fintech, yakni perlunya membuka akses kepada lender sehingga bisa menyalurkan uangnya dan kepada borrowers sehingga bisa mengakses pinjaman tersebut.
Dia menambahkan, institutional lender seperti Bank Mandiri sudah bekerja sama dengan fintech P2P lending Amartha sebagai channeling (penyalur dana kredit).
Untuk itu, konsep channeling seperti ini harus ditingkatkan dan diperjelas untuk menggunakan dana lender supaya dapat meningkatkan penyalurannya kepada masyarakat.
Adapun dari sisi peminjam, penting untuk mengkaji bagaimana bisa mendapatkan borrowers yang beritikad baik. Fokusnya adalah mekanisme identifikasi untuk assessment borrowers, misalnya melalui data kependudukan dan catatan sipil (dukcapil) serta credit assessment sehingga bisa memastikan peminjam yang memiliki kemampuan membayar.
Di sisi lain, Vice President Strategy & Partnership Amartha, Aria Widyanto menjelaskan bahwa tantangan terbesar dalam pengembangan ekosistem fintech saat ini bukanlah kompetisi antar pemain, tapi edukasi kepada masyarakat tentang bagaimana fintech menerapkan ethical lending dan masyarakat menerapkan responsible lending (kemampuan membayar, cost and benefit, dll).
sumber: CNBC Indonesia